F JAEGER Le COULTREespacement MONTRE HOMME MASTER QUARTZ VINTAGE 1970-75 APPRO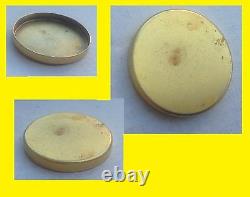 CADRAN POUR Vintage JAEGER Le COULTRE MASTER QUARTZ 1973-75. Se engage au fond de la boitier montre. X MONTRE HOMME MASTER QUARTZ VINTAGE 1970-75 APPROX. MONTRE ancien poignet SWISS MADE de HOMME.
31,4 mm x interne 29,9 mm x epaisseur 3,9 mm. Conditions UTILIZE, VENDU TEL QUEL, X PIECES DE RECHANGE -d'autres photos sur demande. Bien entretenu après toutes ces plusieurs années. VEDI LE MIE ALTRE ASTE CON VARI OROLOGI, ALCUNI FONDI DI MAGAZZINO alcuni NUOVI dell'epoca NOS. Spacer gold filled metal for movement.
X WRISTWATCH MAN MASTER QUARTZ VINTAGE 1970-75 APPROX. Diam max 31,4 mm x interno 29,9 mm x spess 3,9 mm. Well maintained after all these many years.
Metallo dorato gold filled x. Movimento, si incastra nel fondello acciaio.
OROLOGIO EPOCA DA POLSO SWISS MADE. X OROLOGIO DA UOMO MASTER QUARTZ VINTAGE 1970-75 APPROX. 31,4 mm x interno 29,9 mm x spess 3,9 mm. VENDUTO NELLO STATO IN CUI SI TROVA, USATO X PEZZI DI RICAMBIO.
Ben tenuto dopo tutti questi anni trascorsi. BREVE STORIA DELL'OROLOGIO CHE OSPITA QUESTO PEZZO. BRIEF HISTORY OF THE WATCH THAT HOSTS THIS PIECE. BREF HISTORIQUE DE LA MONTRE QUE ACCUEILLE CE PIÈCE.
The "Master-Quartz" by JLC is the top range of early Quartz watches fitted with the GP352 movement by Girard Perregaux. The entire project was co-funded by both of these companies with all the work performed inhouse by GP. It seems that Jaeger Le Coultre made the proper choice of creating a joint-venture instead of joining the Beta21 project by CEH. A few versions were made but this case-type was exclusive to JLC.
It consists of 7 parts: movement with spacer-ring is fitted into a plastic (bezel) holder with crowntube. This holder is pressed into the outer steel case. These parts are then covered with a glass crystal on top and dust-cover and caseback on the bottom...
And these in the end are secured tightly with two rings. Pretty complicated and totally over-engineered. The bracelet is a common high-grade Swiss type.
The GP352 (or 353) movement is identical in all of these watches from Girard Perregaux, Jaeger LC and Favre-Leuba but Pieter Doensen's database is incomplete. Peter Wenzig has pointed out that this movement was also used by... Who had to fill the gap in their portfolio with such a breakthrough technology in order to follow market demand.
Cet item est dans la catégorie "Bijoux, montres\Montres, pièces et accessoires\Montres\Montres classiques". Le vendeur est "simpaticioggettiantichi" et est localisé dans ce pays: IT.
Cet article peut être expédié au pays suivant: Europe.
Affichage: Aiguilles
Modèle: MASTER QUARTZ
Marque: JAEGER Le COULTRE
Genre: Homme
Département: Homme
Type: espacement

---