Jaeger-LeCoultre chronograph vintage! Bauhaus looks! 36,5mm oversize case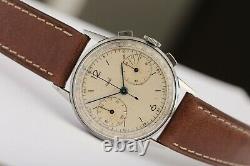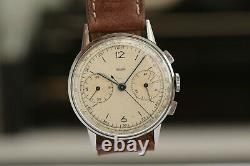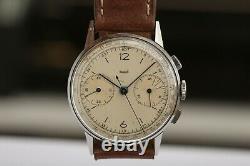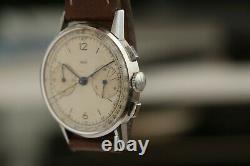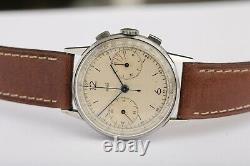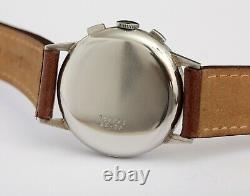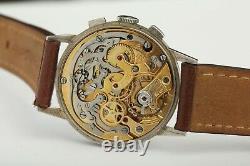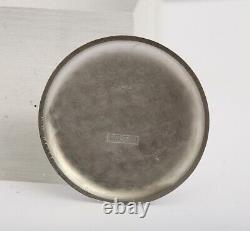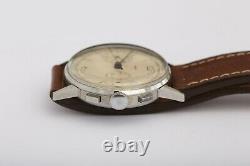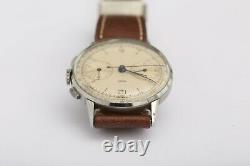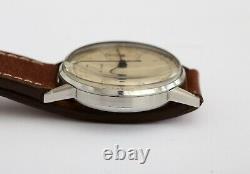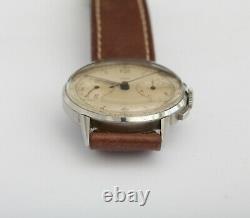 Founded in 1833 by Antoine LeCoultre. The name Jaeger-LeCoultre only appeared in 1937. JLC is one of the few manufactures of Switzerland. This means that they design and build their own movements from scratch, without using third party ebauches.
They have built incredible iconic watches like the Reverso, the Atmos, the Memovox etc. Year of manufacture: unknown but back in the 1940/1950s. The diameter of the round shaped case and is +-36,5mm not including the crown. It is +-19,7mm wide between the lugs.
1 - Cult watch from a high end cult brand. 2 - This is an historical piece not a recent re-edition. 3 A gorgeous dial, with extraordinary simplicity and visibility. 4 A classic minimalist case, inspired in the Bauhaus design concepts. The serial/reference number in the back. The serial number in the movement.
16XXXX - see the picture. My eyesight does not allow me anymore to see at naked eye any relevant defects.
My written description concerning cosmetics is based in the high magnification pictures I provide when I see them at a full HD 22 inches computer screen. In the end remember that you wont be able to see all that by the naked eye.
I would say it is in excellent condition, but judge for yourself - see the pictures. The hands are in very good condition. It looks in very good/excellent condition.
Very good condition - see the pictures. It has no ugly scratches, no cracking and no glazing.
The bracelet is made of genuine leather. It is a gift that goes with the watch. Swiss made, high quality, Jaeger LeCoultre manual wind. It is a caliber supplied by the great chronograph specialist of that era, Universal Geneve. 1 - The movement was subject to CLA job (cleaning, lubrication and adjustment) by a trusted watchmaker in March of 2021. For those of you who might not know what a C. Job means, it involves the disassembling of the watch. Mechanism and having it cleaned in a specific machine with special liquids to remove dry oil and dirt. Afterwards the movement is lubricated with the proper oils and adjusted after being tested in a vibrograf machine. In practical terms it means that you can use the watch every day without fear that the lack of lubrication wears the movement pieces. If it is not stated that the watch has been serviced recently, you would better consider a revision by an expert watchmaker, no matter how good the test results may look. Like a car, a mechanical watch will require periodic maintenance by an expert watchmaker.
Therefore, unless it is specified that the watch was serviced recently, a maintenance service is advised. 1 - Working very well.
2 - Runs very strong. 3 - Time setting and winding are both smooth. 4 Starts upon winding, there is no need to shake it. 5 It was tested during 24 hours and never stopped. 6 All the chronograph functions, start, stop and reset work fine.
7 the chronograph was put to work and after 6 hours was still running. Actually wearing the watch in the pulse will get you different results for sure. 1 - The watch should not be used in the water! All diving watches, even recent, should be sent for a qualified water sealing service each year prior to diving season.
Any acrylic or metallic display that might appear in the pictures is not included in the sale! This is the most effective way to avoid the disappointment of seeing the item go to someone else.
Please take a look at my other auctions. Please refer to the pictures for a complete perception of the items condition. This will be more precise and effective than my eyesight or judgment. All pictures are of the actual item. Photos are not retouched or edited to mask defects.
Please take time to enlarge the all the photos for the clearest, largest images. Photos usually disclose the condition much better than a written description as many people have a different idea on what words or terms may mean. Please remember that seeing the item at very high magnification, as in the pictures that I provide, brings to life small defects that the human eye does not perceive. International Buyers - important notes. % of item's value, will be optional, it is up for you to decide.
L'item "Jaeger-LeCoultre chronograph vintage! 36,5mm oversize case" est en vente depuis le lundi 3 mai 2021. Il est dans la catégorie "Bijoux, montres\Montres, pièces et accessoires\Montres\Montres classiques".
50" et est localisé à/en Europe. Cet article peut être livré partout dans le monde.
Style de cadran: Chiffres arabes
Numéro de reference: 1940s
Objet modifié: Non
Fonctionnalités: chronographe
Couleur du bracelet: Marron
Pour: Homme
Matériau du boîtier: Acier
Affichage: Aiguilles
Type: Montre bracelet
Résistance à l'eau: Non résistant à l'eau
Vintage: Oui
Matériau du bracelet: Acier inoxydable
Customisé: Non
Caractéristiques: cult watch
Modèle: chronograph
Type de bracelet: Bracelet 2-pièces
Pays de fabrication: Suisse
Couleur de cadran: Bleu
Style: Classique
Année de fabrication: 1940-1955
Couleur du boîtier: gris acier
Mouvement: Mécanique (Manuel)
Marque: Jaeger-LeCoultre
Département: Homme

---